Industry: Telecommunications, full service provider
Country: Denmark
Products: Dezide Contact Center Portal, Self-Service Portal, Data Collection Framework
Executive Summary
TDC management wished to reduce customer service costs 10% year over year while increasing quality and customer satisfaction at the same time. There was also a desire to reduce the number of tools required for call center agents and automate processes as much as possible.
A multi-year project was carried out with several phases: (1) contact center and self-service for consumers, (2) process automation by data collector integration, (3) business customers, (4) wholesale customers, etc.
The results were achieved mainly by structuring and optimizing the call center processes in a much more dynamic and flexible way, by using the same knowledge base for self-service and the call center, and by automating call center processes extensively through Dezide's Data Collection Framework.
Results achieved: 8% reduction in call time, 9% increase in first-time-fix, 5% reduction in call volume, 5-9% increase in customer satisfaction. These are just preliminary results. TDC expects several of these results to improve further in the future.
Company Brief
TDC is the leading Danish provider of communications solutions and paid-TV, with market leadership across all segments of the domestic market.
In all other Nordic countries, TDC is the main challenger in the business market.
TDC was one of the best performing incumbent telecom players in Europe in 2012, measured on value creation, customer satisfaction and employee pride.
TDC had revenues of 26 billion DKK in 2010, more than 9 million customers, and more than 10,000 employees.
URL: http://www.tdc.dk
Business Challenge
To maintain its leading role in a very competitive market, TDC among other initiatives saw a need to reduce the cost of customer service and to improve self-service capabilities.
TDC introduced a company strategy to reduce the overall customer service cost by 10% per year from 2010 onwards.
The customer service management staff was charged with identifying process optimization and automation possibilities, and finding the necessary tools for implementing this strategy.
At the same time, TDC created a new strategic initiative, TAK ("Tag Ansvar for Kunden" – "Take Responsibility for the Customer"), which was named as one of the top initiatives across TDC by the top management. A manager was hired for the TAK initiative and he was charged with significantly increasing customer satisfaction and loyalty by changing and introducing new customer service processes. He was given a cross-organizational role and wide powers to implement the necessary changes.
TDC has previously used separate knowledge bases for self-service and the call center. In addition, they have been using different knowledge bases for different business units, consumers, business, wholesale, etc. These knowledge bases were simple static document databases with a search capability.
In addition, TDC has made heavy use of complicated Visio diagrams to model customer support processes (more than 800 in total).
So, to ensure continued competitiveness, the main goals for TDC were:
To reduce the volume of phone-based support calls
To increase self-service
To ensure consistent handling of customers across different channels
To ensure consistent handling of customers across different business units
To increase QoS (Quality of Service), cSat (customer satisfaction) and NPS (Net Promoter score)
To reduce customer service costs by 10% every year by reducing the number of calls, reducing AHT (Average Handling Time), increasing FTR (First Time Right), reducing agent churn, and reducing education cost
To reduce the number of tools needed to handle a customer, reduce tool complexity and increase the number of automated processes as much as possible.
TDC decided to investigate the Dezide solution to see if it could help them meet these goals.
Why Was Dezide Advisor Chosen?
Dezide was selected for these primary reasons:
It is multi-channel, so it supports the TDC strategy of one knowledge base for many channels
It is an intelligent solution with self-learning capability.
It offered a replacement for TDC's 800+ Visio diagrams that constituted the existing knowledge base. Dezide's solution was able to import and convert Visio diagrams into intelligent troubleshooting guides.
It offered Data collection from TDC's CRM, billing and measurement systems to automate processes.
It offered FixIt functionality to ensure that updating backend systems is transparent for the user
It ensures that sessions are logged automatically just by using the system, thereby enabling TDC to save time
Increased collection of customer data due to the detailed logging of steps in the Dezide system
Increased efficiency, quality and precision due to the intelligence of the Dezide system
Dezide's guided troubleshooting technology was seen as the solution to all of the above issues.
Dezide's solution is powered by Bayesian networks, a newer form of Artificial Intelligence that is based on graphical networks where relationships between events are defined with probabilities. Dezide's technology enables any domain expert to specify his knowledge in the form of potential root causes, and repair steps / solutions and questions (related to error messages, tests and configuration).
Only a few vendors worldwide can supply a commercial quality knowledge management system for customer service based on Bayesian networks. Dezide is currently the leader in this field. Dezide's products have been used by many companies for the optimization of customer service activities and are protected by seven patents.
TDC customer interaction strategy
Dezide has become an essential part of TDC's customer interaction strategy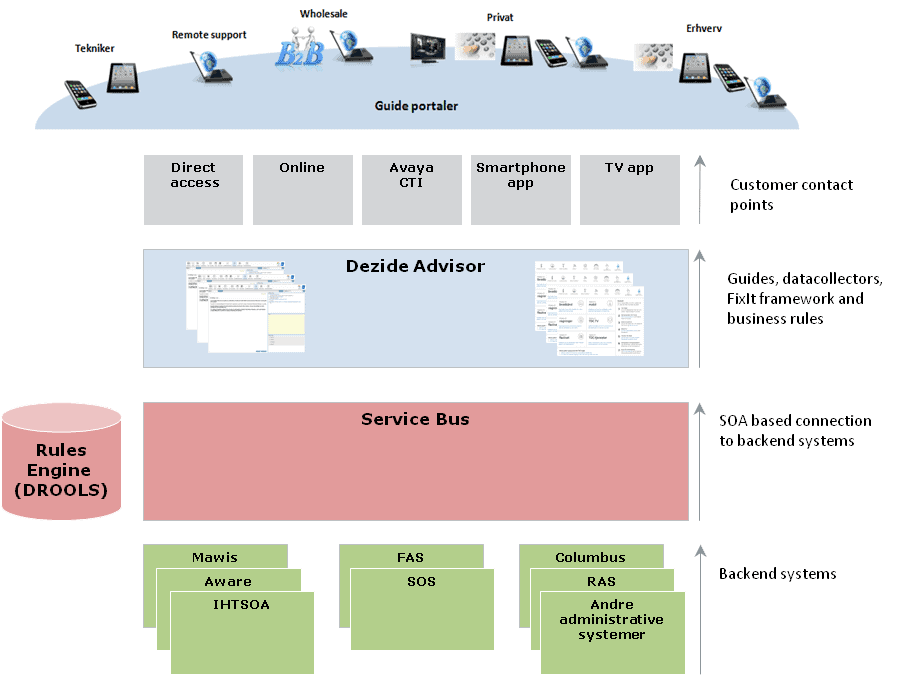 Dezide Portal
This is an example of the Dezide Portal user interface for Hotline support agents handling a classic Telco customer:

Project phases
The project has been through several phases during the last two years.
The main phases are:
Standard implementation of Contact Center and Self-Service Portals for consumer customers
Use of Data Collectors to automate the process of analyzing the customer's telephone and data lines
Use of Data Collectors to speed up TDC's Hotvoice (IVR) process
Automation

Use of Data Collectors to automate manual steps during troubleshooting
Use of FixIt framework to optimize the integration to back-end systems
Use of FixIt framework to minimize the number of front-end tools

Extension to Hotvoice (IVR) self-service
Extension to wholesale customers
Extension to onsite and remote technical customer support
Phase 1 was carried out over a nine-month period where the goal was to implement a consistent knowledge base that could be used for both customers and agents. Troubleshooting guides that could be used for both types of users were developed. Individual steps within the guide were marked as customer-only, agent-only, or available for both.
Input for phase 1 was the 800+ Visio diagrams that formed the basis of TDC's old knowledge base. A special XML converter was developed that enabled the direct import of these diagrams into Dezide. Dezide's normal intelligence was temporarily put on hold and constraints were introduced to ensure the same behavior of the workflow in Dezide. Later in the project these constraints were slowly removed and the intelligence of the Dezide system was allowed to influence the structure and dynamic behavior of the workflow.
Dezide's standard Contact Center Portal was modified and customized to match TDC's requirements, and was then integrated into the standard agent dashboard in the MS CCF system.
Dezide's Self-Service Portal was not used. Instead, TDC decided to implement its own fully customized self-service interface based on Dezide's XML Web Service API that gives direct access to the Dezide Decision Engine. This is the normal practice as it gives full control over the interface and enables easy integration with CMS systems.
Phase 2 had the goal of automating the very time-consuming and complex process of carrying out measurements of the customer's telephone and data lines and analyzing these. Prior to Dezide, the agents would have to start up various measurement systems (Aware and Mawis – see also separate customer case on TDC's use of DCF), collect around 20 measurements, analyze these and then determine the appropriate next step. This process would be carried out in most fixed line and broadband-related calls and would on average take around 30 seconds. In addition, due to the complexity of the process, many errors were made.
A Dezide troubleshooting guide was developed that could carry out automated analysis of the collected data and indicate the status of the line and the recommended next step based on this. A number of Dezide Data Collectors were then developed to import measurement data directly from Aware and Mawis. This resulted in an average reduction in the Average Handling Time of 30 seconds (=8%).
Phase 3 had the goal of expanding the scope of the Hotvoice (IVR) process in which the customer makes a call to TDC and is guided on the telephone through a troubleshooting process. TDC wanted the IVR system to be able to automatically analyze a customer's line during a call, and thereby test for line errors and create a service report if any errors are found. TDC created a troubleshooting guide to manage this process such that, depending on the status of the line, the customer would either be informed that the line had been reported for service due to an error, or directed to customer service if there was no error. Of course, the earlier developed Data Collectors for analyzing the customer's copper line are also used here. This phase is still not completely finished but an additional reduction of AHT of 10 seconds (=2%) is expected. In addition, an overall reduction in the number of calls by 5% is expected since more calls can be handled by the IVR system without the need to contact a call center agent.
Phase 4 is ongoing and has the goal of automating all possible steps where the agent needs to go into another system to check information about the customer, the network, etc., or alternatively where the agent needs to change a setting in another system. Phase 4 will also enable guides on the self-service portal to read information about the customer, and thus become more efficient and precise. Technically, reading information from other systems is implemented with Dezide Data Collectors, and changing information in other systems is implemented with Dezide Fix-Its. Phase 4 is expected to achieve another 30-second reduction of AHT (=8%) and a further increase of the First Time Right of 1%.
Phase 5 is ongoing and has the goal of optimizing self-service capability on the Hotvoice. It is currently under development and is expected to go into production in the second half of 2013
Phase 6 has the goal of expanding the existing knowledge base and portals so that they also cover wholesale customers. Phase 7 has not yet started but is expected to be carried out during 2013.
In phase 7 TDC is considering also providing access for field technicians so they can use the troubleshooting guides when working on customer equipment in the field. Phase 8 has not yet started but is expected to be carried out during 2013.
Other future developments could be to provide self-service access through apps for iPhone, Android and Windows 8 devices.
The system currently has around 2600 defined users and 100 concurrent users but these numbers are expected to increase greatly when the above-mentioned phases are completed.
Project challenges
There are a number of challenges one should be aware of when implementing Dezide.
Primarily, it is important to base the development of guides not only on documented business processes but equally on the day-to-day experience of the most experienced agents who handle customers. This part of the project can be quite time consuming but is essential for successful implementation
Dezide can be seen as a middleware between business processes and IT back-end systems. Therefore, a well-defined IT architecture such as SOA that can support the data collector and fix-it frameworks is very important. This will ensure that Dezide would not need to communicate directly with back-end systems and thereby be release-dependent.
The interpretation of responses from the involved measurement systems is at the core of a Dezide implementation. This part of the project transfers the logic and intelligence from the involved measurement systems into Dezide guides and combines them with the business processes. Thorough testing is especially important for this part of the implementation.
Results
The implementation of Dezide has helped TDC reduce costs and increase quality. A number of metrics have been collected so far but some areas have not yet been sufficiently quantified.
Achieved so far in TDC Private Hotline:
| | |
| --- | --- |
| 8% | Reduction of AHT (Average Handling Time) |
| 9% | Increase of FTR28 (First Time Right: customers that do not call back within 28 days) |
| 5% | Reduction of call volume |
| 34% | Higher quality in escalations from first line to second line (onsite and remote support) |
| 9% | Increase when we ask the customers after a call "How well informed to you feel?" |
| 5-9% | Increase in CSAT (customer satisfaction score) for Hotline calls |
| 18-50% | Reduction in number of customers with an unacceptable fault-handling experience |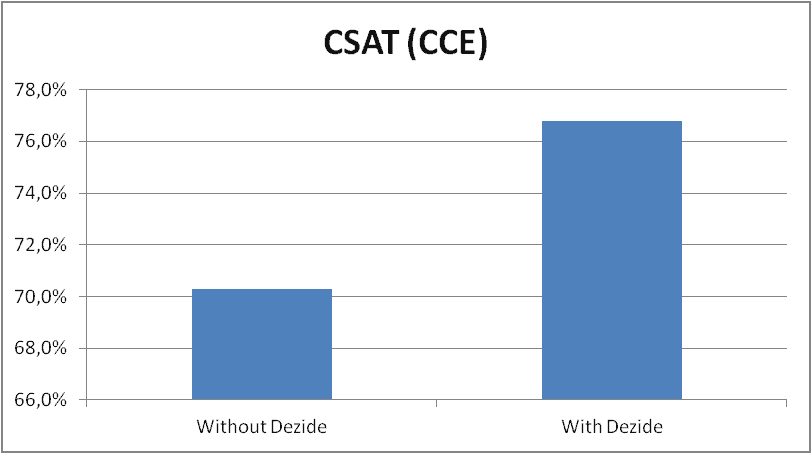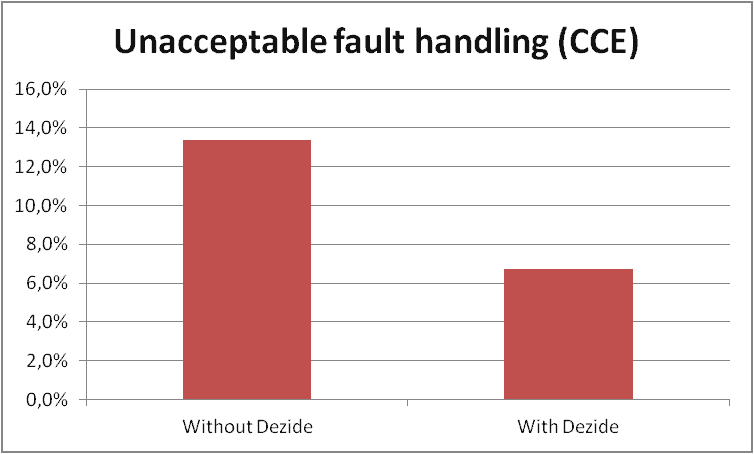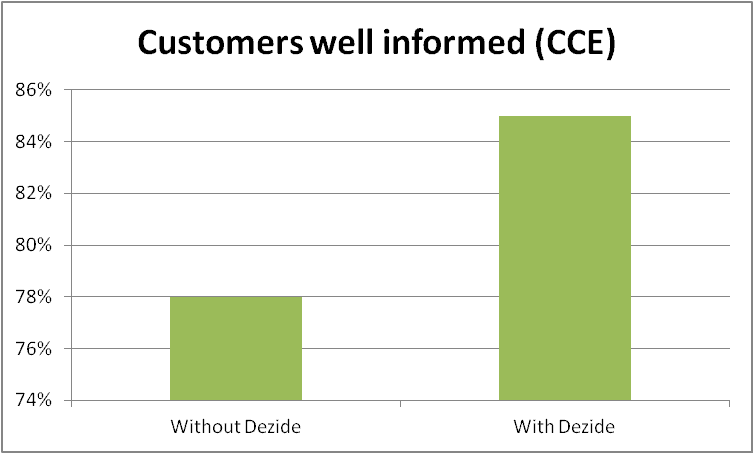 *CCE is TDC's outsourcing partner who handles 50% of all Hotline calls
Additional results expected with a full implementation of all phases:
Additional reduction of AHT
Additional increase of FTR28
Reduction in training time for new agents (from 8 weeks to 3 weeks)
Additional expected but not quantified results:
Reduced call volume due to self-service
Reduced AHT for TDC Business and Wholesale calls
Increased FTR for TDC Business and Wholesale calls
Increased customer satisfaction and NPS score (Net Promoter Score)
Agents will be more multi-skilled with a more solid knowledge base with a wider scope
Increased quality overall
Voice of the customer
In TDC, Dezide is seen as an essential strategic element that translates very complicated business rules into easy-to-follow SOPs, and automatically presents the most logical next step for a CSA. Dezide is thereby a crucial element in our product design philosophy, giving us the ability to implement rather radical changes, basically by the hour.
Christian Yde
– Technical Product Manager, Customer Interaction
Distribution of error reports:
An example of one of the many improvements achieved with the help of Dezide.
TDC has seen a drastic change in the distribution of error reports from Hotline to onsite support (red curve) and remote support (green curve) since TDC started using Dezide guides in week 40. The effect has been a shorter error correction time, cost reduction, and an increased number of satisfied customers.